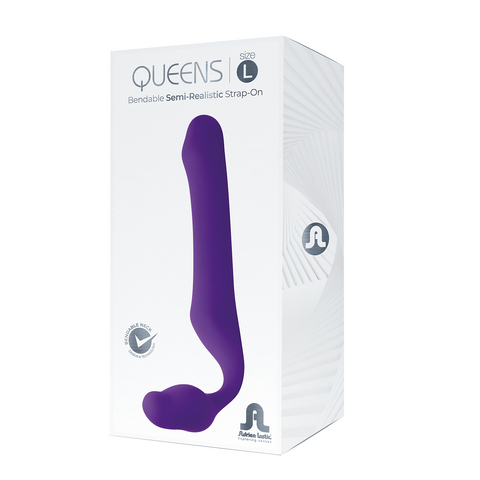 ADRIEN LASTIC QUEENS STRAPLESS STRAP ON - PURPLE - LARGE
Strap-On Dildo without straps, made with super soft, high quality silicone, flexible and waterproof.
Enter into a hands-free pleasure session, Queens is self-supporting, you'll find three fully ergonomic sizes.
Newstrap-on dildo without straps,siliconesupersoft,flexible,waterproofandwith three sizes availableIt will be the best ally of many of you!
The strap-free double penetration dildo is a dildo without a harness and without the usual straps. Instead, it has acurved insertable head designed for vaginal penetrationso this toy isideal for couplesby women only or by man and woman.
The shape of the short endstimulates the G-spotof the woman during use. The dildo is made of silicone, a comfortable, soft and waterproof material. The realistic size is especially good for beginners. And the diameter is not too intimidating either, you can choose the size according to your preferences.
Queenscan be used with water-based lubricant. If you're still wondering what the advantage of Queens is... Very easy,is a double stimulation didlo that will give pleasure to the active and passive part at the same time.. In addition, there will be no hindrances, e.g. a harness in the way.
Ready for a session of simultaneous pleasure?
Important Information
In some circumstances products will be shipped directly from our retail stores. It is our store policy to have products hygienically tested by experienced staff on arrival in store to ensure they are in working order before being offered for sale.
---
We Also Recommend
---