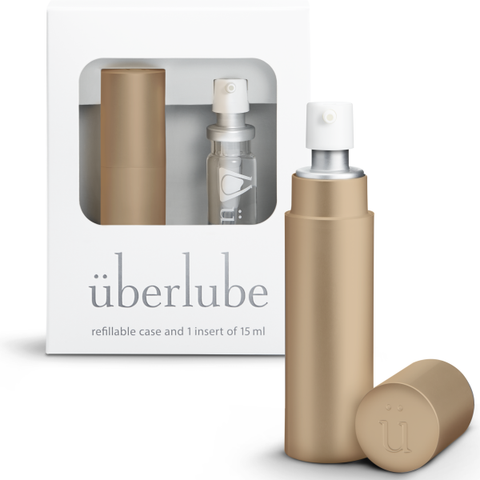 Uber Lube Good-To-Go Travel Pack Refillable Case With 15mL Insert - Gold
überlube Good-To-Go Travel Sets are perfect for your pocket, purse, or gym bag.
Grab one and go!
Refillable. Just grab a refill pack and you'll have two more überlube cartridges for your case.
Discrete. Case is unprinted, überlube logo is on the inside.
Case available in Gloss Black and Silver.
überlube is currently one of the best silicone-based personal lubricants on the market: not only can this function as a sexual aid, but this lube can also be used as hair serum, makeup primer, massage oil, moisturizer, and even shoe polish.
Completely odorless and tasteless

Thin, silky, and light upon application

Rubs into the skin smoothly, leaving a sleek, long-lasting finish that can be rubbed away, making it an effective massage aid.

überlube is never sticky or tacky, nor does it leave any oily residue.

überlube comes in a beautiful clear glass bottle with a pump, allowing for ease of use during sexual activity.

Containing only 4 ingredients [dimethicone, dimethiconol, cyclomethicone, and tocopheryl acetate]

Absolutely unique in its minimalism.

It's glycerine- and paraben-free, making überlube an option for those who are prone to yeast infections and UTIs.
Sexual Wellness
überlube is a premium product – uniquely designed to transfer sensation while reducing friction.

Feels natural and amazingly silky, performs as long as you're using it, then dissipates across skin leaving a soft, moisturised feel.

Will not harm healthy bacteria or affect Ph levels: recommended by doctors and gynaecologists.

Scentless, tasteless, non-staining. Will not harbor outside yeast, bacteria, or mould.

Treatment pump is metered and allows one hand to stay free during use. No caps to open and close.

Latex safe: Optimal for use with all condoms and dental dams, as well as with non-silicone sexual aids such as stainless steel or Pyrex glass sex toys.
Sports Performance & Endurance
Athletes use überlube as a long-lasting anti-chafe.

Swimming: It also works as a chlorine block and hair conditioner by protecting the cuticle of the hair.

überlube lets skin glide across itself in a non-greasy, body-friendly way – extremely long lasting will work as hard as you do.
Styling
Use überlube as a weightless, oilless finishing product to tame, de-frizz, and add a perfect understated sheen to your hair. Stylists have been using überlube for years.

überlube can be used on its own or mix it 50/50 with your favourite product. You'll love the texture and handling.
Ingredients: Dimethicone, dimethiconol, cyclomethicone, and tocopheryl acetate.
Important Information
In some circumstances products will be shipped directly from our retail stores. It is our store policy to have products hygienically tested by experienced staff on arrival in store to ensure they are in working order before being offered for sale
---
We Also Recommend
---