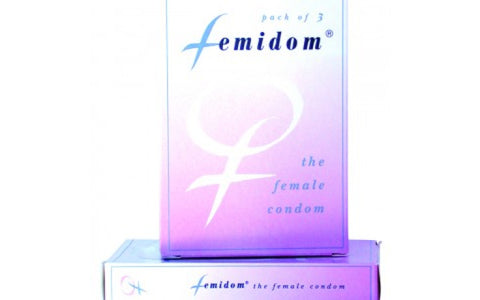 FEMIDOM THE FEMALE CONDOM
Many women prefer to use the female condom for contraceptive purposes and for protection against sexually transmitted infections. These non-latex (polyurethane) condoms are suitable for use with water based personal lubricants
The Femidom is a lubricated condom for women. It is an effective method of contraception which protects against both pregnancy and sexually transmitted infections (STIs).
Unlike male condoms, Femidom does not restrict the penis, but gently lines the vagina, allowing both partners to relax and enjoy comfortable, sensitive love making. The Femidom is simple and easy to insert.
Women can be reassured that when used according to the instructions, Femidom is as effective as other barrier methods. The thin polyurethane that it is made from is extremely strong. In addition, there have been no reported allergic reactions to either Femidom or the non spermicidal lubricant.
Each condom is designed for one use only. 
Contains 3 female condoms.
Important Information
In some circumstances products will be shipped directly from our retail stores. It is our store policy to have products hygienically tested by experienced staff on arrival in store to ensure they are in working order before being offered for sale.
---
We Also Recommend
---