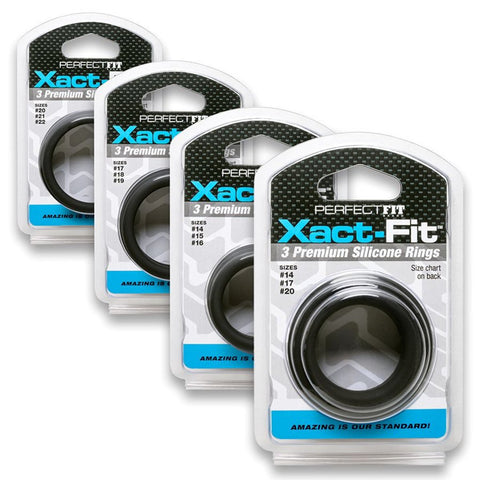 Perfect Fit Xact-Fit Silicone Cock Rings L/XL 3 Pack (No. 20/21/22) - Black
Imagine if a finger ring only came in three sizes equivalent to the circumference of a dime and a quarter and a dollar coin – how would they fit? Well until now, cock rings were sized even farther apart than this! No wonder finding a good fitting cock ring is near impossible. Perfect Fit has developed the first cock ring sizing system designed to fit you without too much pull but with enough restriction to be truly effective. 
When you are looking for a simple classic cock ring, these silicone rings will do the trick. Quick and easy to use, just slip the entire ring over your cock and balls and you'll enjoy a rock hard erection for as long as you need.
Set Includes:
Ring #20
Diameter: 50.8mm
Circumference: 160mm
Ring #21
Diameter: 53.3mm
Circumference: 168mm
Ring #22
Diameter: 55.9mm
Circumference: 175mm
Important Information 
In some circumstances products will be shipped directly from our retail stores.  It is our store policy to have products hygienically tested by experienced staff on arrival in store to ensure they are in working order before being offered for sale.
---
We Also Recommend
---