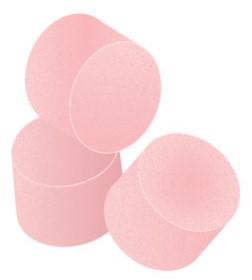 SAX ABSORBENT SPONGES TAMPONS - INDIVIDUALLY WRAPPED (SINGLE)
The SAX Absorbent Sponges are ideal for unexpected moments or when planning special occasion's and nature steps in! Extremely convenient to use, they cannot be felt by either partner during lovemaking. 

They are made of environmentally friendly, non-toxic sponge material and contain no chemical substances whatsoever, so eliminating the possibility of internal irritation. Very comfortable and pleasant to wear. Characterized by their soft and supple material and their light weight of only 2 grams per sponge. 
How to use a sponge
1. Wash your hands with soap and water.
2. Take the sponge out of its packaging.
3. Wet the sponge with either water or lube (if it's not lubed).
4. Squeeze excess liquid out of the sponge.
5. Put the sponge inside as if you are putting in a tampon. Squeeze the sponge to make it as small and narrow like a tampon size. You can squat down or lift up one leg while standing up.
6. Push it up inside your vagina to the same area you normally put your tampon. Try to make it sit across your cervix wall.
7. Once you have put the sponge in, wash your hands with soap and water again.
How to take a sponge out
When taking a sponge out, it is best to be calm, relaxed and comfortable.
With one finger
Get into a comfortable position. You can squat down or stand up and lift up one leg.

Gently and slowly slip your finger into your vagina. Be careful not to scratch the insides.

Hook your middle finger around the side of the sponge to scoop it out.
With two fingers
Repeat step 1 and 2 and use your middle finger and thumb fingers like they are a pair of tweezers.
Note: Do this in a tiled area (e.g. bathroom, toilet, bathtub), because some blood will come out when you pull the sponge out. Otherwise, put a towel underneath to catch the leaking blood.
Important Information
In some circumstances products will be shipped directly from our retail stores. It is our store policy to have products hygienically tested by experienced staff on arrival in store to ensure they are in working order before being offered for sale.
---
We Also Recommend
---