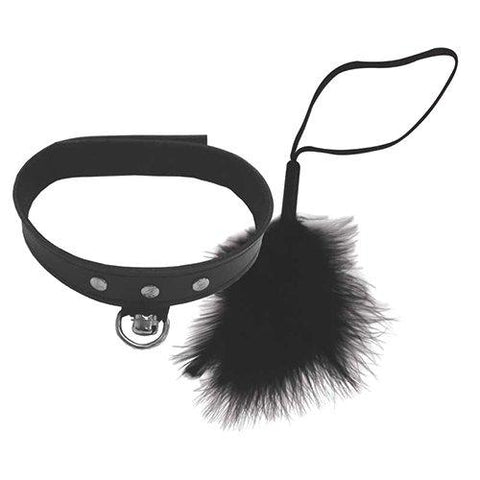 Sex & Mischief Sex Kitten Kit
The only thing she was wearing was a collar as black as the darkness that engulfed the room. Navigating carefully, yet purposefully through the nightfall, she crept towards the bedside chair where I sat - intent on studying her every movement. The delicate ringing of a tiny bell, which was affixed to her collar, penetrated the hot evening air.
It wasn't long before the gentle, rhythmic jingling compelled me to stand and meet her halfway. "Don't go any further," I instructed, as I found the band that caressed her skin. She stood perfectly still as my fingertips memorized the features of her neck and then progressed up to her mouth, brushing her lips, parting them slightly. She responded immediately to the small feather tickler I had palmed in my hand as it traveled acrossher body. She shook in anticipation, wondering what was next. The now fevered ringing of that tiny bell around her neck was a clear signal that she was eager to please and be pleased.
Made of: Vinyl, polyester fabric, nickle free metal hardware, velcro, turkey feather, rubber cap, nylon cord.
Important Information
In some circumstances products will be shipped directly from our retail stores. It is our store policy to have products hygienically tested by experienced staff on arrival in store to ensure they are in working order before being offered for sale.
---
We Also Recommend
---