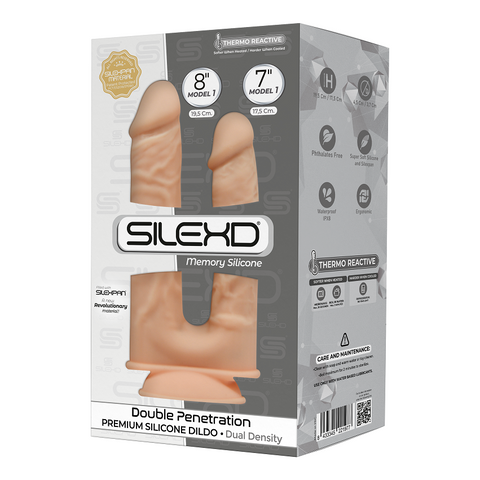 SILEXD DOUBLE PENETRATION 8" + 7" DONG
Double dildo made of premium quality silicone material with special properties. The two branches are very flexible relative to each other, and their size is somewhat different. The factory dimensions in the name above are measured from the suction foot of the dildo, this data does not mean much, as it cannot be inserted until then, the exact, more usable numbers can be found in the data below.
As soon as we get our hands on it, you can immediately feel that this is an almost simple dildo. The silicone material, dubbed Silexpan by the manufacturer, is a bit soft and flexible if left pressed for a short time and then regains its original shape. Just like memory sponge mattresses, pillows with only slightly higher resistance.
If the device heats up, it becomes slightly softer and more flexible, and when it cools, it hardens. The manufacturer also suggests playing with the temperature: put it in warm, either boiling water for up to two minutes, or in the microwave for up to 30 seconds. A refrigerator can be an obvious solution for cooling.
Of course, it is not obligatory to use these methods before use, the toy is great, slightly flexible and has a slightly soft texture at room temperature.
It can also be placed in an epithelium
It softens on heating
It hardens on cooling
Material: premium quality, silicone named Silexpan
Only water-based products are recommended for lubrication
Important Information
In some circumstances products will be shipped directly from our retail stores. It is our store policy to have products hygienically tested by experienced staff on arrival in store to ensure they are in working order before being offered for sale.
---
We Also Recommend
---