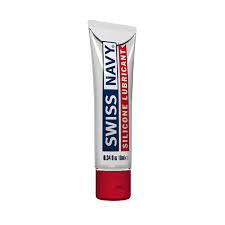 SWISS NAVY 10ML SILICONE LUBE
DESCRIPTION
The newest category of lubricant on the market is silicone!
Condom manufacturers have been using silicone based lubricants for years on their pre-lubricated condoms, but recently lubricant manufacturers started selling silicone lubricants separately due to it's additional benefits in aiding sensual responsiveness.
Silicone has also been used for years in other personal care products such as hair care and body care to add the shine and silky smooth feel.
As the population ages, there is a great need to have products available that can relieve the symptoms of aging and contribute to greater personal intimacy.
Silicone personal lubricant is a perfect product to can do this!
Many postmenopausal women may benefit more from Swiss Navy Silicone since it is not absorbed and can help with dry, sensitive tissues.
Swiss Navy Premium Silicone Lubricants made from the highest grade of silicone in the market today, making it silky smooth and long lasting so there is no need tore apply.
Since it is not absorbed it can help with dry, sensitive tissues. Silicones the perfect lubricant for anal sex and water intimacy.
Truly long lasting lubrication with a velvety feel
Highest grade silicone on the market
Premium non-absorbable formula
Patented "leak proof" bottle design with locking pump
Single-hand pump for easy one-handed application
Available in four popular sizes
Ingredients:
Cyclopentasiloxane, Dimethicone, Tocopheryl Acetate
Important Information
In some circumstances products will be shipped directly from our retail stores. It is our store policy to have products hygienically tested by experienced staff on arrival in store to ensure they are in working order before being offered for sale.
---
We Also Recommend
---