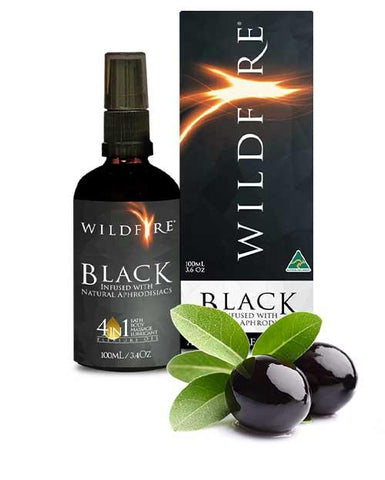 Wildfire 4 in 1 All Over Pleasure Oil - Black - 100ml
Wildfire 4 in 1 All Over Pleasure Oil - Black - 100ml
Wildfire Black is a double strength formula packed with the most potent aphrodisiac herbs available today. It has been created for those that want even more intensity. Its bold, its beautiful, its an all together new experience from Wildfire. With vivid new fragrances and newly discovered herbs Wildfire Black will ignite your passion like never before. Use as a bath or body oil for skin that's unbelievably supple. Indulge in an exotic massage with the one you love or experience the world's most sensual lubricant. All we can say is once you've tried Black you'll never go back…

4 in 1 PLEASURE OIL:
1. SENSUAL LUBRICANT – Heightens arousal, orgasm and sensation as it penetrates the skin.
2. INTIMATE BODY MASSAGE OIL – Intensifies touch and enhances intimacy.
3. NOURISHING BODY MOISTURISER – Feeds Moisture and nutrients back into the skin.
4. LUXURIOUS BATH OIL – A sumptuous bath treat that relaxes and fills the air with seductive fragrances.


Ingredients: Olive Oil, Jojoba Oil, Maca, Suma – Brazilian Ginseng, Muira Puama, Ginkgo Biloba, Horny Goat Weed, Damiana, Indian Ginseng, Vitamin E, Cnidium, Chinese Wolfberry, Rhodiola Rosea, American Ginseng, Ylang Ylang essential oil, Bergamot essential oil, Patchouli essential oil, Rosewood essential oil, Sweet Orange essential oil. This product contains only pure essential oil, not synthetic fragrance. This product is not effective in treating sexual dysfunction
Important Information
In some circumstances products will be shipped directly from our retail stores. It is our store policy to have products hygienically tested by experienced staff on arrival in store to ensure they are in working order before being offered for sale.
---
We Also Recommend
---