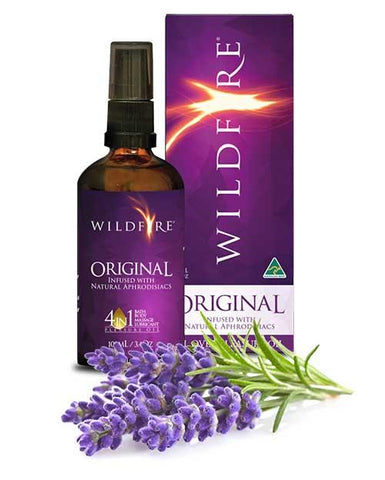 Wildfire 4 in 1 All Over Pleasure Oil - Original - 100ml
Wildfire 4 in 1 All Over Pleasure Oil - Original - 100ml
The Original Formula that took bedrooms by storm is still changing love lives around the world. Ignite the passion as these exotic and powerful aphrodisiacs penetrate the skin. Take in the aroma the warmth and new sensations as this natural personal lubricant and massage oil helps you to discover each other all over again.Wildfire ORIGINAL is packed with erectile and libido herbs that enhance your performance and longevity in the bedroom. This beautiful couples formulation has something for everyone. The potent herbal aphrodisiacs help keep men in the game harder and longer while working on the female to increase her libido and sexual performance as they trans-dermally absorb into the bloodstream.

4 in 1 PLEASURE OIL:
1. SENSUAL LUBRICANT – Heightens arousal, orgasm and sensation as it penetrates the skin.
2. INTIMATE BODY MASSAGE OIL – Intensifies touch and enhances intimacy.
3. NOURISHING BODY MOISTURISER – Feeds Moisture and nutrients back into the skin.
4. LUXURIOUS BATH OIL – A sumptuous bath treat that relaxes and fills the air with seductive fragrances.


Ingredients: Olive Oil, Vitamin E, Jojoba Oil, Muira Puama, Horny Goat Weed, Damiana, Tribulus, Ylang Ylang essential oil, Rose Geranium essential oi, Lavender essential oil, Sandalwood essential oil. This product contains only pure essential oil, not synthetic fragrance. This product is not effective in treating sexual dysfunction.
Important Information
In some circumstances products will be shipped directly from our retail stores. It is our store policy to have products hygienically tested by experienced staff on arrival in store to ensure they are in working order before being offered for sale.
---
We Also Recommend
---